Chesapeake Choice Services 

CHESAPEAKE CHOICE SERVICES Irrigation & Landscape Lighting 

3436 Constellation Dr Davidsonville MD 21035  410-956-1911  chesapeakechoiceservices@verizon.net

Irrigation 

Frequently Asked Questions

A lawn sprinkler system takes the guesswork out of how much or how often to water your lawn, it protects your landscape investment by efficiently applying a controlled amount of water at routine intervals, eliminating water waste from over watering or stress to the landscape from inconsistent or under watering. 

​For over 25 years Chesapeake Choice Services has been committed to designing and installing efficient underground sprinkler systems that will serve your landscape for many years and protect the investment you have made in your lawn and landscape by making it and keeping it vibrant and healthy. 

​Your system will be personally designed for the specific needs of your lawn and landscape, with separate zones, customizable watering schedules, a water saving rain sensor and user friendly control units for system operation. 

There are many elements that factor into the proper design of an efficient system including soil type and condition, plant material, grade and slope conditions, hydraulics and pressure loss to name a few. Whether we are designing a large commercial system or a one for quaint back yard, rest assured that every element will be taken into account when we design your system.

 . 

Water Saving Rain Sensors

Irrigation & Landscape Lighting

Let us Design your next Project Today 

Fee Estimates 410-956-1911

Residential and Commercial Irrigation Systems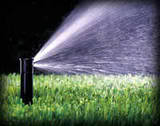 Some areas of your lawn may be in full sun while others may be shaded, some areas may sit high on a slope while other areas sit low. Annuals and perennials require have different watering requirements then established shrubs and trees. We will design your sprinkler system understanding each areas different watering needs; keeping your lawn and landscape nourished without water waste.

The "brains" of the system is the irrigation controller, its job it manage the systems operation. After we install your system, we'll show you how it all works, how to adjust the settings and overall how to manage your new irrigation system should adjustments be needed.

All of our systems are what we call Smart Water systems. To avoid unnecessary watering our systems come with a rain sensor devise, this devise automatically tells your controller to skip a watering schedule if it detects a recent rain fall, now that's smart watering! 

Seasonal Service each fall will protect your pipes from freezing in the winter and in the spring our Start-up will ensure the system is on and working properly.

Allow us to design and install your irrigation system so you can make plans for a carefree summer.